"Say: He is God, the One and Only; God, the Eternal,
Absolute; He begetteth not, nor is He begotten; And
there is none like unto Him." [Noble Quran 112:1-4]

In the Name of Allah, Most Gracious Most Merciful
"Read! In the Name of your Lord, Who has created (all that exists)." Quran [96:1]

The Quran is a Divine Miracle of Literature



QURAN SOFTWARE!
The Quran is the final revealed Book of Allah (God), that contains the message of guidance from Allah (God) for all humankind. "Quran" - It comes from the Arabic root "qa-ra-'a" and it means "recitation." It is best understood as "The Recitation." More than 10 million people living today (mostly non-Arabs) have memorized the Quran in the Arabic language on earth today.

The word Qur'an means readings or recitations. It was transmitted to us in a chain starting from the Almighty Himself (SWT) to the angel Gabriel to the Prophet Muhammad (peace be upon him). This message was given to the Prophet (SAW) in pieces over a period spanning approximately 23 years (610 CE to 622 CE). The Prophet (SAW) was 40 years old when the Qur'an began to be revealed to him, and he was 63 when the revelation was completed. The language of the original message was Arabic, but it has been translated into many other languages.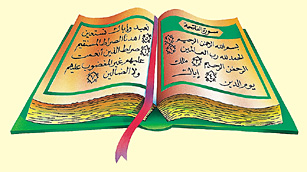 Click to Install Noble Quran ebook
The Holy Quran Translated in English by Umm Muhammad :: size: 8.9 MB

Operating System: Windows Vista, Windows 2000, Windows XP



The Holy Quran Translated in Bangla and English (Click to Install) :: size 1.86 MB

Pray: The Right Way to Pray (Click to Open) :: size 862 KB

Manner of Wuduu (Ablution): Right Way to Wuduu (Click to Open) :: size 1.26 MB

HADIS SOFTWARE!
Muslims believe in Allah (SWT) and believe that Mohammad (SAW) is the messenger and servant of Allah (SAW). The statements or speeches of Mohammad (SAW) are called Hadis or Hadith. In order to understand all the commands of Allah (SWT) properly and implement in our life, we rely on the Hadis of the prophet (SAW) and his actions which are called his Sunnah.



Click to Install Hadis Software
Bukhari, Muslim, Malik, and Dawud Hadith Collection :: size: 7.4 MB

Operating System: Windows Vista, Windows 2000, Windows XP