In the Name of Allah, Most Gracious Most Merciful
"SAY: DO YOU SEE? WHETHER THIS MESSAGE BE FROM ALLAH (God Almighty), AND YET YOU REJECT IT, AND A WITNESS FROM AMONG THE CHILDREN OF ISRAEL BORE WITNESS OF ONE LIKE HIM......"
- (SURA AHQAF) Holy Quran 46:10
The Quran is the final revealed Book of Allah (God), that contains the message of guidance from Allah (God) for all humankind. "Quran" - It comes from the Arabic root "qa-ra-'a" and it means "recitation." It is best understood as "The Recitation." More than 10 million people living today (mostly non-Arabs) have memorized the Quran in the Arabic language on earth today.
Brahui Translation:
Read Qur'an Online
Read Quran in Brahui
HOLY BOOK: QURAN: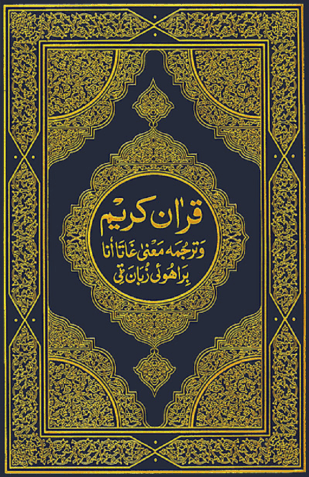 Name
Listen Online
Download
SURAH 001 - AL-FATIHA
SURAH 095 - AT-TIN
SURAH 096 - ALAQ
SURAH 112 - IKHLAS
SURAH 113 - FALAQ
SURAH 114 - AN-NAS
More audio click here..
---