In the name of Allah (God), Most Gracious, Most Merciful.
"Say: Are you watching? Get this message from Allah (God Almighty), and you will read it again, and in such a way as to be friendly to one another." - (Sura AHQAF) Holy Quran 46:10
The Quran is the final revealed book of Allah (God), with a message of guidance from Allah (God) for all mankind. "Quran" - It comes from Arabic origin "qa-ra-'a" and means "recitation". More than 10 million people living today (mostly non-Arabs) have memorized the Quran in Arabic language on Earth today.
Hindi Translation:
Read Qur'an Online
Read Quran in Hindi
Holy Book: Quran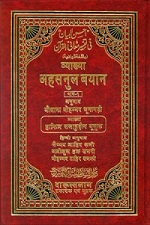 Name
Listen online
Download
Surah 001 - AL-FATIHA
Surah 095 - AT-TIN
Surah 096 - AL-ALAQ
Surah 112 - AL-IKHLAS
Surah 113 - AL-FALAQ
Surah 114 - AN-NAS
More audio click here ..
---